Subtitles are necessary when you are watching a movie in a foreign language. If you are new to English or learning any other language then using subtitles in your movie file is a great way to increase your vocabulary. In this post, I am going to show you how you can add subtitles to your movies easily.
No matter what language you speak, everyone enjoys watching movies. The problem is that most movies do not have the budget to afford translation into multiple languages.
When I started watching movies on the Internet in foreign languages I had difficulty finding suitable subtitles. However, now it becomes easier to find accurate subtitles for any movie.
There are a lot of reasons to add subtitles to a video:
They make the video accessible to people who are deaf or hard of hearing
They make it easier to track and understand the lyrics if it's a music video
They offer an alternative to posting lyrics alongside the video of a music video
They provide the opportunity to translate your video into any language
How to Add Subtitles in Your Movie on an Android Device?
If you are using an Android device then you can use VLC Player for Android and MX Player to play files which have subtitles. However, if your movie or tv show file doesn't have any subtitles then you can easily add them. Here's how you can do it:
Add Subtitles to a Movie by Using VLC for Android:
Play any video file that you want to have subtitles.
Tap on the screen to bring up the on-screen buttons (if it is not showing already).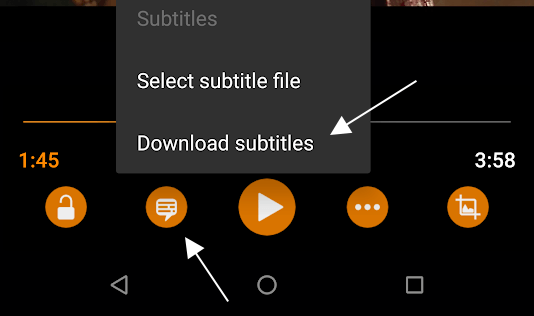 Tap the second button from the left, between the lock and play button.
Tap on Download subtitles.
Add Subtitles to a Movie by Using MX Player
Play any movie or tv show file using MX Player.
Tap on the screen to bring up the on-screen buttons.
Tap the three-dotted menu and select Subtitle settings.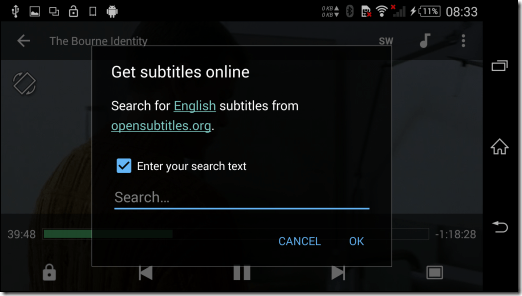 Here, tap the option Get subtitles online to search and download the suitable file from the internet.
How to Add Subtitles Manually on an Android Device, PC, or Mac?
It's pretty easy, just copy the title of the movie you've downloaded, go to google, paste the movie title and add "subs" or "subtitles" at the end, and hit enter.
Click on any of the 1st three search results.
Download the subtitle, which is a .srt file most of the time (sometimes it could be a .sub file)
Make sure the name of your movie has the exact name as your subtitle file.
Example movie: AwesomeMovie.mkv, subs: AwesomeMovie.srt
You also need to put your subtitles in the same directory as your movie. Let's suppose your movie file is in the folder "Movie Name" then you must add subtitle file in the same folder.
Websites to Download Subtitles for Movies and TV Shows
before you can turn on subtitles for a video, you'll need to find and download a subtitle file that has been synced properly with that particular video file. If you downloaded a movie off of a torrent site then some torrent uploaders add subtitles within the torrent. However, if your movie doesn't have a subtitle then you can download them by using any of these websites.
When looking for subtitles, we only recommend these two sites:
Subscene — My personal favorite. Unless the movie or TV show you're trying to watch is underground or decades-old, it's almost guaranteed that you'll find subtitles that work. Subtitles are categorized by title, language, and whether or not they include hearing-impaired cues.
OpenSubtitles — This database is pretty big and the subtitles do work, and you'll even find some that can't be found on Subscene, but beware that this site has a lot of ads. Grabbing subtitles here can feel like a game of elimination as you try to figure out which download links are the right ones.
Let me know in the comments which of these methods you use to add subtitles to your movies. Check out this tutorial on how to download music from SoundCloud to an Android phone.