I always have Ring Volume to the highest. I have noticed on many occasions that after using a variety of apps, playing a game when I check the Ring Volume is set to its minimum. I go through and try to replicate apps that I have used and cannot trigger it. It just seems to happen spontaneously. I have missed some phone calls because of this.
My phone ring volume was turning itself down from the last couple of days. I didn't know what causes this problem exactly, but I had missed many calls by this strange behavior on my phone.
I searched a lot for the fix and finally, I found a fix. This is not an official fix but using a third party app we can stop a ring volume to turn down or up.
If you know any better solution to fix this problem, please feel free to leave a comment. I will update the content of this tutorial so people will get the information they were looking for.
Ringtone Volume Fix
Here is an app called Volume Locker, which is free and very useful app for those people who are facing this particular problem in their android phones.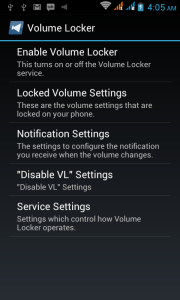 This app will lock the ringer volume and prevent accidental volume changes by you or your phone by asking you to keep this change in the notification from the taskbar or it will show a popup notification.
If you don't respond to the notification in 30 seconds (by default settings for the app, you can change it instantly) this app will keep the ring volume as it was before. If you tap the notification, this app will change the ringer volume.
It is not a solution that you might enjoy but still time to time we all face similar problems due to the software bugs left unfixed by phone manufacturers. This solution could help you out.